Inlägget postat av: Kai on July 14, 2014
---
Requirements:
Basic paper card 10,5 x14, 8 cm. Fold line on the side. Punch Card white 10×14, 3
Strip of white paper to make template about 10 x 9 cm
Paper glue and 3D foam, and double-sided tape
Vilda Stamp: text V693, V540 swirl, the V395 fish, including stamp block
Stempelkussen Archival Black, Ranger distress, tumbled glass, faded jeans, wild honey, evergreen bough. Versamark clear, white embossing powder
Die and punch diameter circle with diameter 6 cm.
Cuttlebug embossing folder circles
Stik Chervil transparent glitter circles.
piece of ribbon
Snow paint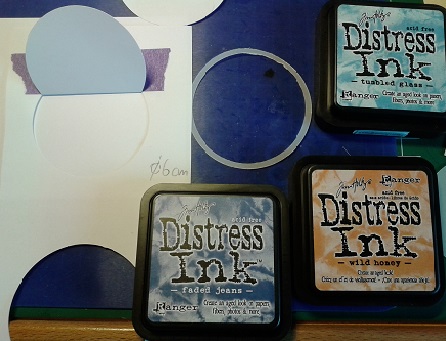 Short description, look at the example.
Punch the circle of 6 cm from the slip of paper. Use the hole as a template. Paste the upper right so that there is a circle with a flat upper section. A vissekom.
Beink section from bottom to top with a distress tool yellow, light blue. Paste or two very narrow strips over and beink everything again.
Mask off the punched circle over the bowl and place the swirl stamp. Work the bowl with a sticker circle. Remove the upper portion of the card through the Cuttlebug and make sure there stand circles about half.
Beink the map around with the blue tones. Stamp the krabje in yellow hokey. On the leftover fish cut off the black punch line and beinken yellow. On a piece of blue cardstock text stamping with versamark.
With white embossing powder heating. Oplakken next to the bowl. The eyes of the fish coloring with white 3 d snow paint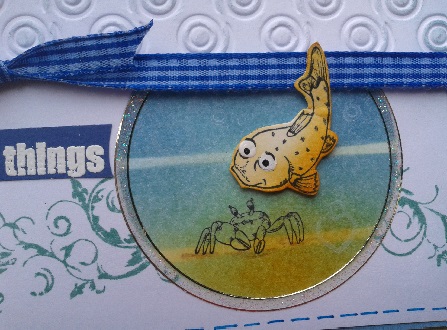 and give as it is dry a black pupil. Slice fish with foam. Decorate the card of your choice, with ribbon, stick everything on the base card with the fold on the left.
This post is posted by Karin