Inlägget postat av: Kai on July 14, 2014
---
Requirements:
Basic paper card 10,5 x14, 8 cm. Punch Card white 10×14, 3cm. Strip 3x15cm. All pieces of cardboard in colors that fit them together. Cut or punch it into the size 3×3 cm.
Paper glue and 3D foam, and double-sided tape
Vilda Stamp: text V693, V540 swirl, V697 rose, including stamp block
Stempelkussen Archival Black, Ranger distress, peeled paint,
3×3 cm square punch, punch star in various sizes
piece of ribbon

Not label a large part of the stamp paper with text mark in green.
Make all squares of 3 x 3cm. Put it as a puzzle together and not label it squares with archival black with rose and swirl. No matter where the stamp is. Soon you will find the nicest squares in which the strip pasted side by side. Beink the outer edges of the stamp paper and the strip with squares. Outline the map with a dotted line.

Tie the ribbon around. The strip diagonally across the map stick with 3 D foam. Cut off the excess off. Stick this area on the base card with double-sided tape. Decorate the card further with punched stars and glitter stones of choice.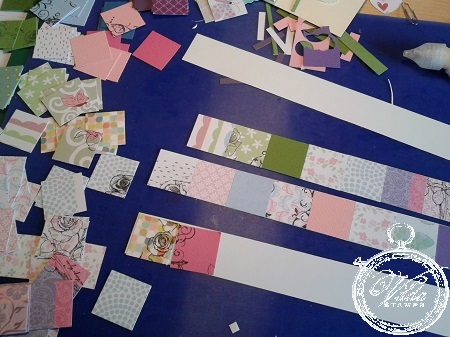 Have fun making the cards.

I am now totally crazy squares. Lots of this is to think. Also you can find scraps of paper what your sin to throw away so getting a nice destination. This technique is also very nice to handle. In your scrapbook album Nice cut, paste and puzzling.

Tip: make all strips and squares stock.
This post is posted by Karin