Inlägget postat av: Kasia on March 17, 2014
---
Today I´m a stand in for DT Lousan, or actually we swapped dates. Well today I´m blogging a picture of myself, which I do very selldom. This was one of the happiest Days in my Life, my wedding day and with the new stamp kits designed by Sari and pretty satisfied with the LO.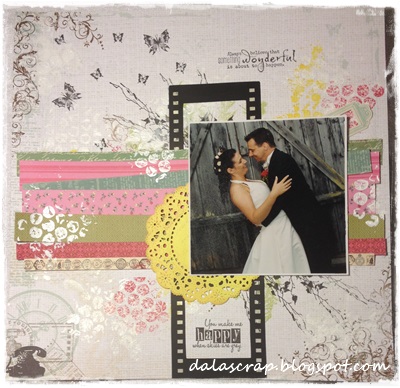 As You might see I´ve used a lot of stamps. In the bakgound I used "Twigs Kit" V 435, "Butterfliecorner with extra butterflies" V710, "Grunge swirl" V540 and "Splash background" V 283, You can find them all here!
I´ve also used two stamps from the new kit "English text A6" V763.  I Think these sentiments really made it all!
Soo until next time, wish You all a nice time with lots of fun!
//DT Kasia
This post is posted by Kasia