Inlägget postat av: Marie on August 27, 2013
---
En liten glasburk som jag först klädde in med washi tejp, glansigt mönstrat papper och pappers spets. Därefter så var det dags att dekorera, med handgjorda rosor (jag har nämligen gjort den själv) samt en liten hjärtberlock som jag gjort i krympplast med stämpel V186, Händer med hjärta. Hittade små fluffiga rosa hjärtan som jag spetsade med en grön ståltråd, halvpärla, bast, 3D Crystal Glaze, rosen knoppar  och så Distress Ink… nu tror jag jag har fått med alla dekorationer.
Vad kan man nu ha den här lilla burken till….
Alla hjärtans dag present
Gåva till sin käresta
… eller varför inte spara små saker som är en kär i den.
****
A small glass jar that I first dressed in with washi tape  then with a glossy patterned paper and paper lace . Then it was time to decorate with handmade roses ( I now thats for a fact because I have done it myself ), and a small heart charm that I made in shrink plastic with stamp V186 , Hands with Heart . I Found some small fluffy pink hearts that I spiked with a green wire , half pearl , straw string, 3D Crystal Glaze, rose buds and so Distress Ink … Now I think I have mentioned all the decorations .
What can we now have this little jar to ….
Valentine's Day gift
Gift to oue sweetheart
… or why not save little things that are us dear.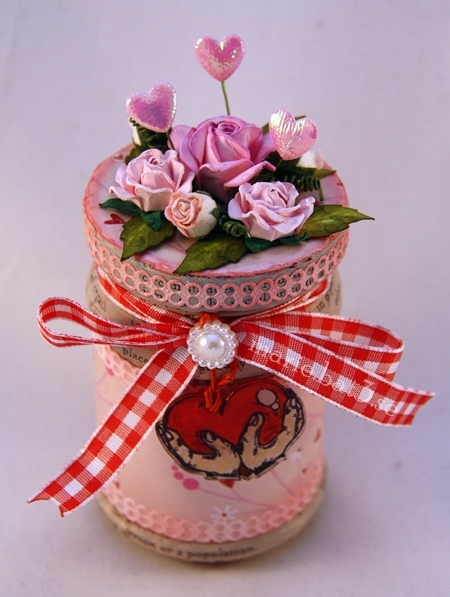 This post is posted by Marie