Inlägget postat av: Tina Pavlovic on March 17, 2018
---
Hello everyone!!
This is me, Kristina, from Kristina's Art Corner!!
As usual I will publish two projects today so be sure to come back later on to see the other card. For today I have prepared Easter projects. Easter is behind the corner and it is not bad to have finished cards for friends and family. So let's get to work!!
For my first card I used Easterbunny and Young hen stamps set (Påskhare och Ungtupp)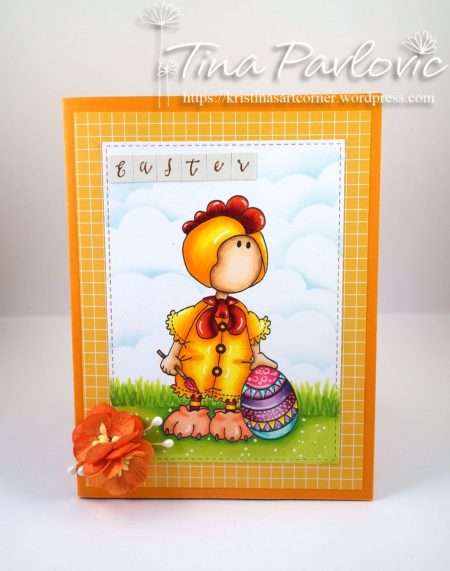 I stamped my image with copic friendly black ink and colored with my copic markers. I also colored grass and added cloudy sky with MFT Mini Cloud Edges Stencil and Tumbled Glass distress ink. Uni Ball White gel pen for some details on the outfit and for some flowers on the grass. After that I used A2 Stitched Rectangle Stax Set 1 for MFT to cut out front panel.
I also used MFT Graphic Grid Paper Pack from MFT for the second panel. The card base is made from orange card stock and I added some flowers for finishing touch. And yes, on the end I decided to use My Mind 's Eye Pearl stickers for sentiment.
I hope you like it and that you will be inspired.
Thank you for stopping by! See you soon! Kristina
This post is posted by Kristina