Inlägget postat av: Kathrin on March 10, 2018
---
Hello everyone, and welcome back today!
Also on my second card for today I used some new stamps. I don't know how about you, but I am more than ready for spring, for warm weather, sunshine and blooming flowers. Well, it will take some more time until we're there, so I made a spring-ish card to have at least some of the mentioned.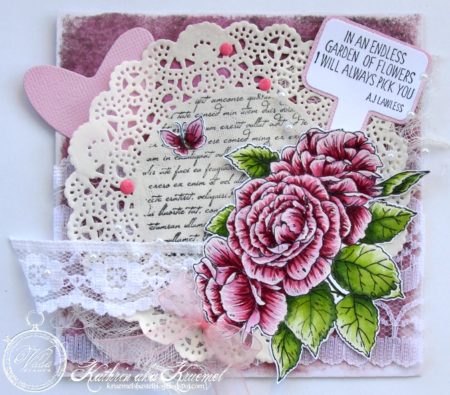 I made a square card and put a large doily in its middle. Onto the doily I've stamped the Letter Context stamp. I've die cut a circle from plain copy paper and used it as a mask so I was able to only stamp onto the middle of the doily and do so in a circle shape. I also put some lace – wide and small – onto the card and a die cut heart.
The butterfly and saying come in the same set as the roses. I've decided to stamp the saying onto a die cut flower pick to make it go with the garden theme of my card.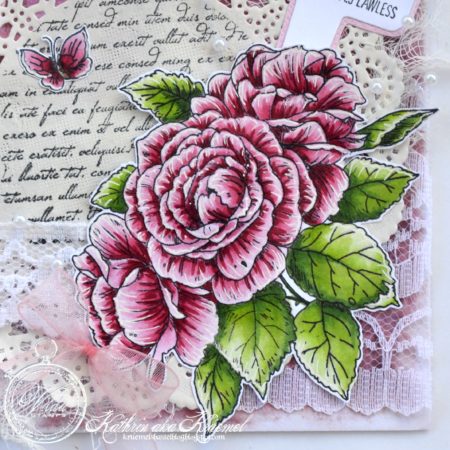 And these are the beautiful flowers from the Flowers Geranium and Roses stamp set. I fell in love with this set immediately. And I knew that I wanted the roses to be colored with quite some contrast in a really dark pink and light pink and with some white lines. Now they remind me of an really old sort of english roses – and I can  nearly smell them.
After coloring the roses in I used my scissors to cut them out and put them onto my card using dimensional tape.
See you all next time!
Hugs, Kathrin
This post is posted by Kathrin