Inlägget postat av: Kathrin on February 21, 2018
---
Hello everyone – and welcome back!
After sharing my easter box earlier today I have another box to share. But this one isn't for easter but for a coffee loving friend of mine: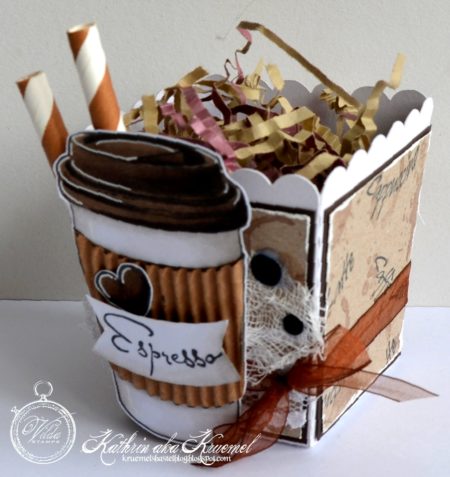 And since I love not only the taste of coffee myself but also the color palette of warm browns and cream that's also what I used for my box.
I used the great Coffee Kit here.
I've stamped and colored in the coffee cup and cut it out. Then I stamped the sleeve again onto corrugated paper and glued it on top of my cup. The sleeve was decorated with a banner on which I stamped the word espresso and with a little heart. The heart is from the German Lyrics Oktoberfest stamp set and is originally connected to the word Oktoberfest. I stamped it separately, colored it in and glued it under the banner.
Under the cup I've used lace, cheesecloth, ribbon and two paper straws.
The sides of my little box are all decorated identically. I first stamped different stamps from the Scrap and Mixed Media Set 2 and the Splats Kit onto kraft colored paper using brown ink. Then I stamped more coffee related words, that all come in the Coffee Kit as well, onto the cardstock, using black ink this time. Around the box I've wrapped some brown organza ribbon.
To not make the content of my box visible immediately I've first filled it with some yummy chocolates with coffee taste and then put some paper strips on top. Of course the chocolats are wrapped individually so the taste won't get weird from the paper.
Wishing all of you a vey happy day!
Hugs, Kathrin
This post is posted by Kathrin