Inlägget postat av: Kai on October 14, 2017
---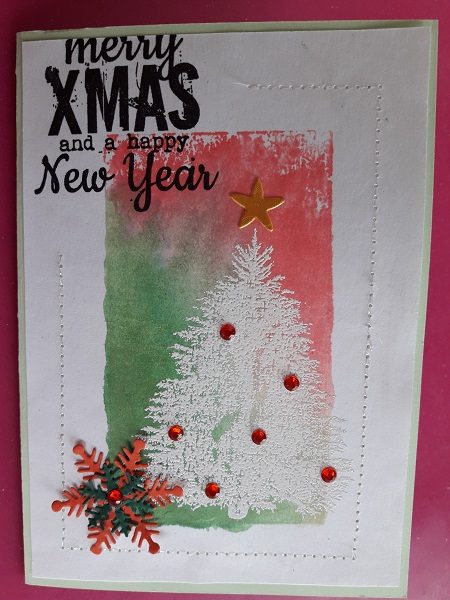 Necessities
Base card light green 10.5 x 14.8 cm. Watercolor paper white: 10x 14.3 cm.
Stamp Vilda V718 Christmas tree, V804 text,
Stamp block clear rectangle
Water spray bottle
Stamp ink: Memento green Bamboo Leaves, Memento red Love letter, versamark clear, versa fine black waterproof.
Embossing powder white and heat tool
Different punches stars, paper green, red, gold.
Glitters red
Wink or Stella white writing.
Sewing machine with white wire.
Method
Block beink with red and green. Spray it with water and squeeze on watercolor paper. Allow to dry without lifting up a block.
After drying dry for 24 hours. On the colored section a white tree stamp with clear. Spread the white embossing powder into it. Heat
Place a text of your choice in corner. Go over the open parts of the tree with Wink or Stella for glitter effect.
Paste or sew as I did with sewing machine and glitter wire up the parts.
Decorate the card of your choice with sparkling stones and punched stars.
This post is posted by Karin