Inlägget postat av: Kai on October 14, 2017
---
Magical Christmas
Base card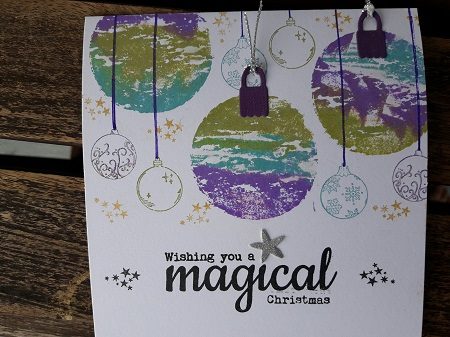 10x15cm
Stamp pad Distress oxide peeled paint green, wilted violet purple, broken china blue,
Waterproof black, gold.
Stamp Vilda V850, V832 Christmas balls, V804 text.
Nellie Snellen dies hanging christmas ball: CBD001
Silver cord
Wink or Stella Clear
Punch stars motif
Fineliner purple writing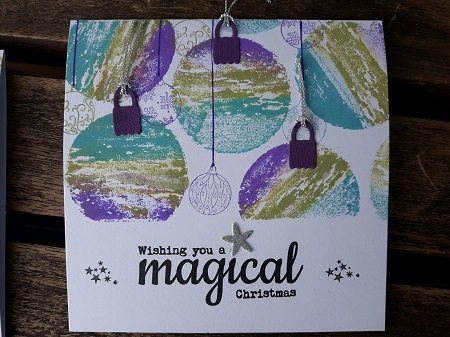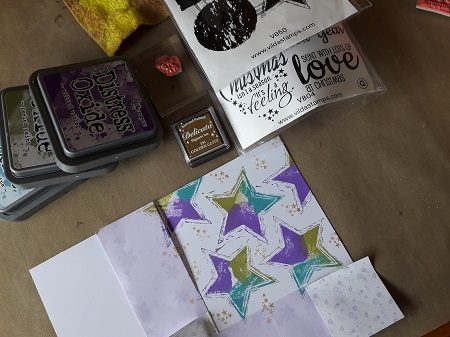 Place a text in the middle at the bottom. Evaluate this and go on top. Beink the christmas or star with 3 color oxide ink. Do not let the balls hit each other. Decorate with little christmas balls. Paste the cut-out eye with a silver ribbon on top of the Christmas ball. Manually draw the purple ropes from the small balls. Optionally fill with small stars. Punch stars from purple and silver glitter cardboard. Paste everything according to example.
To give the card a Shiny effect with Wink or Stella draw horizontal and white stripes over the big Christmas balls. Or along the outer lines of the stars.
This post is posted by Karin