Inlägget postat av: Kai on June 14, 2017
---
Hello here is Karin again. 2 Cards the same and different. This is my second post for Juni.
The square map is described
– Basic Double White Card Linen 10 x 15 cm
– 2x Solid white 12 x 12 cm from a section with dies MFD 101 square cut.
– Cardstock Light green 12.5 x 12.5 cm
– Small piece of dark green = butterfly punch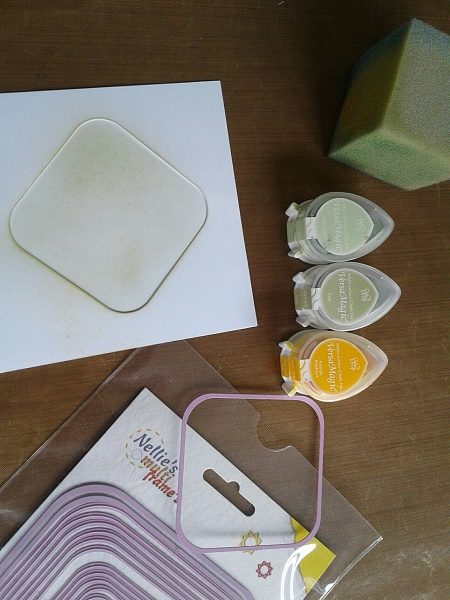 Wild stamp V697
Other materials Nellie Quick products
Cut embossing machine large. Stamping Buddy Pro
Mixed Media stencil mesh: NMMS 013
MFD dies MFD (103) and 101
Twin punch butterfly / flower: TMP 001
Heat tool resistant mat HEAT 001
Ink applicator round, including green cushions
Waterproof green archival or memento.
Versa Magic Stamp Ink Dew Drop: Saga, Aloe Vera, Mango Madness
Green pencil, fine liner green.
Green glitter floral brad; FLP-GB004
Spacer gold
15 cm ribbon or lace classic white

3 Paillet transparent
Mini gauge
Baby wipes, kitchen roll, and cloth
Glue, 3 d tape
Method
Lay white 12 x 12 cm exactly up in a corner of the stamp buddy pro. Unable to shift. Background  with Versa Magic the open section and stamp with the lightest color green and yellow through the cut out the stamp.
Stamp with waterproof green the shovel. Color it a little with pencil
Make a bow, stitch in the middle spacer and brad. Make a hole in the place where the brad is. Fold bones open.
Decorate according to example with outside lines. Paste paillet, corners and small punched butterflies.
Tip: Save the expired portion for a next card.
This post is posted by Karin