Inlägget postat av: Kai on June 14, 2017
---
It is Karin here from the Netherlands. Here is my first post of this month.
– Basic Double White Card Linen Gloss 10 x 15 cm
– Watercolor paper white: 7 x 15 cm, 7 x 9 cm
– cardstock blue: 8 x 15 cm, 10 x 10 cm
– Remaining dark blue and purple = butterfly punch
Wild stamp: V171
All other are most Nellie Snellen products
Cut embossing machine large.
Mixed Media stencil balls: NMMS 001
Embossing folder: MLTXT 002. Text congratulations
MFD dies MFD 064
Twin punch butterfly: TMP 001
Heat tool resistant mat HEAT 001
Ink applicator round, incl. Blue pads
Versa Magic Stamp Ink Dew Drop: Purple Hydrangea, Aegean Blue, Pink Petunia
Memento black water resistant.
Aquamarkers blue, purple
Spray bottle SPBO 001 with water.
Blue floral brad
15 cm ribbon or lace classic white
Flame wire white = feather trim, black overcoat
3 Paillet transparent
Mini gauge
Black marker.
Baby wipes, kitchen roll, and cloth
Glue, 3 d tape
Method
Create background by inking stencil with Versa Magic colors. All 3. Start with the lightest ones.
Spray water. Press watercolor paper. Flow the excess water away with a cooking roll.
Drying and cleaning the mat and stencil.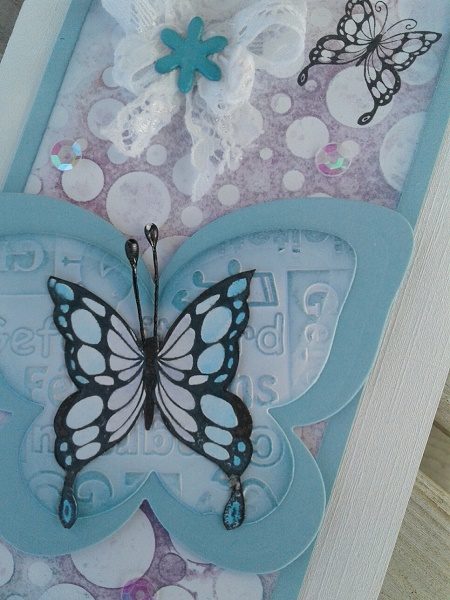 Stamp big butterfly and color with aqua markers, Cut out and finish the outside with black marker.
Embos small white section with leaflet. Color in with blue Aegean blue and applicator. Cut with butterfly dies 3 from outside white butterfly. Edges too. With dies 2 from the outside a violet butterfly.
Make a bow, prick the brad. Make a hole in the place where the brad is. Fold bones open. Stamp little butterfly.
Stick the butterfly in 3 d and hit the card as an example. Decorate with choice of paillet and small punched butterflies.
This post is posted by Karin