Inlägget postat av: Kathrin on February 21, 2017
---
Hello everyone!
Valentine's is over and I wasn't sure about posting easter cards already. So, what to make to give you some inspiration? Let's start with a bottle hanger I made:

I think, giving a botte of whine or champagne is something we all do quite often. I like to add a personal touch by adding a tag or bottle hanger. I am not quite sure yet, if this one is going to a man or woman so I kept it "unisex" with not too many embellishments.
I used a cutting die to cut the bottle hanger. Then added another layer of light brown paper with a heart's print. I stamped the Letter Context V260 Stamp all over it and then added some splashes from the Scrap and Mixed Media Kit 2 V742 stamp set which are heat embossed using green embossing powder. I like this splash especially on this hanger because it looks like the brim a cup or bottle sometimes leaves on the table.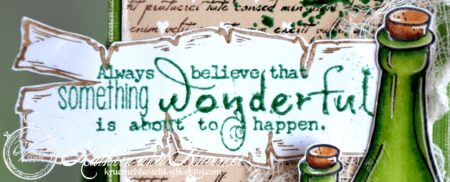 For the saying I went with this stamp from the English Texts A6 V763 stamp set – it's also heat embossed with green embossing powder – and added a fame by using the larger one of the stamps from the Posters V95 set. First I added the bottom line, then cleaned the stamp and added the top line — and it nearly matches perfectly.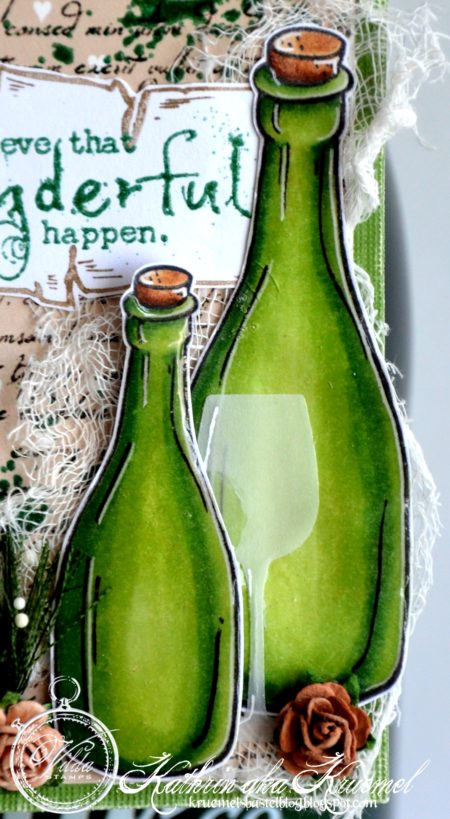 Main element on my tag are these two bottles. They are the two larger ones from the Glass Bottles V5 stamp set. They are colored in with Copics and then I added Glossy Accents all over them to make them shine like real glass. They are put on top of each other with 3D tape and I've tucked this whine glass die cut in between.
A few roses/flowers and some cheesecloth finish this part of the hanger.
I hope you liked this one and you pop back again later for my second post of the day.
See you then, hugs, Kathrin
This post is posted by Kathrin