Inlägget postat av: Kai on May 14, 2016
---
Necessities.
Black, white, red glitter paper
Stamp Vilda: V439 car
Stempelkussen archival black, versafine clear, punch white powder
Embossingföhn, cutter
Heart punch various sizes, glitterstones
Glue, 3 D foam
White gel pen, fine liner black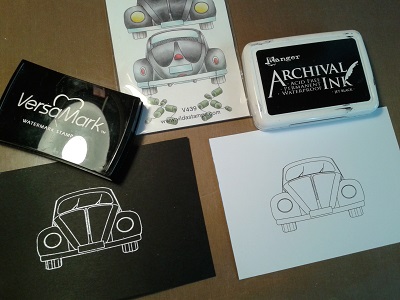 Method:
Card black folded: 10.4 x 14.8 cm.
Shiny red 9,9 x 14,4 cm stick on black base card. This 1 x white card.
2 x White: 9.4 x 13.8 cm and 8.9 cm x 13.3 cm. Black: 9.4 x 6.9 cm and 9.4 x 13.8 cm.
Stamp on white 8.9 x 13.3 cm in the middle with black car, same gain heat black paper with white embossing powder and hairdryer.

Cut the white print out in half by car. Paste it right on the black. Make this two-color printing custom 8.9 x 13.3 cm. This is increasing stuck with foam pads. Stick the card black half under the white. Look closely at the picture. Decorate with hearts and stones.
Inside are in the card are red 9,5 x 14 cm. and white 9x 13 cm. Do not forget to stick a heart here.
When card 2 is the black part is replaced by red. No text used because it is suitable stuck there later on.
This post is posted by Karin