Inlägget postat av: Kai on March 14, 2016
---
It's spring.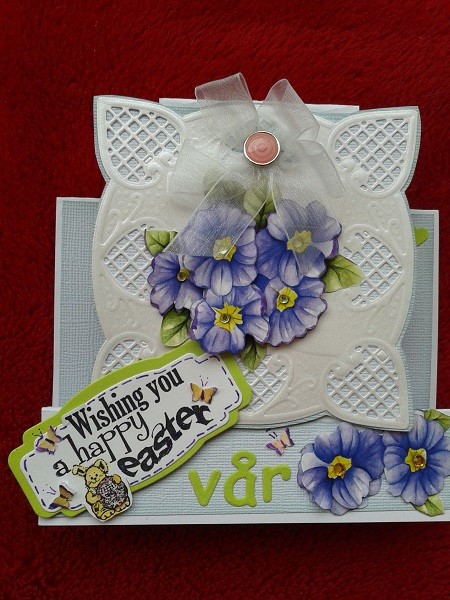 Necessities:
Decoupagepaper spring Wekabo 844 blue flower.
White card paper 13.5 x 27 cm, and piece by the sentiment V693 Happy Easter, green initials: "spring" in Swedish with Nellie Dies SD 079 and tag 066 MFD
Light blue paper strips 3 3 x 13.1 cm, 1 strip 6 x 9.5 cm
1x cotter pin, organza ribbon about 40 cm.
Creatable Marianne Design, cutting out white.
Scoaring board, small prick pillow and puncture needle.
Punch with small butterfly
Tape 3 D bonding glue, eraser
Versamagic color: Aspen Mist,
Aqua marker: purple and green to make it past the cut 3D picture shadow lines. And brown and yellow for Easter bunny and butterflies
Ink applicator
Craft sheet
Description:
It is a square Stairs-up, map with the fold line at the top. Make a crease on the scoaring board 3.5 cm and 7 cm and 17 cm.
Make slits in the card at 3.5 cm from the sides. Between the fold lines of 3.5 cm and 17 cm. Fold the card into shape. Cut all blue strips. Place the white square cut on the blue and delineate it. Cut slightly beyond the edge drawn out.
Erase the pencil lines with soft gum out. Beink all loose blue parts gently. Stick the strips on the map
Tie the ribbon and secure with a cotter pin on top of the map
Stick the square in 3D with foam in the middle of the card. The 3 D picture cut out, but keep two parts (2 and 4) Paste your choice in the middle and on the strip outside corner front.
Place stamp on piece of white and cut off at a smaller size than the green tag. Slice both segments that. The whole 3-D foam on the corner of the map slices diagonally.
This post is posted by Karin