Inlägget postat av: Kathrin on September 21, 2015
---
Hello again and welcome back on the Vildastamps Blog!
As mentioned earlier today I have another Halloween project to share with you. It's such a short time of year that you can use those georgeous Halloween stamps so I had to take the chance… And this is what I came up with: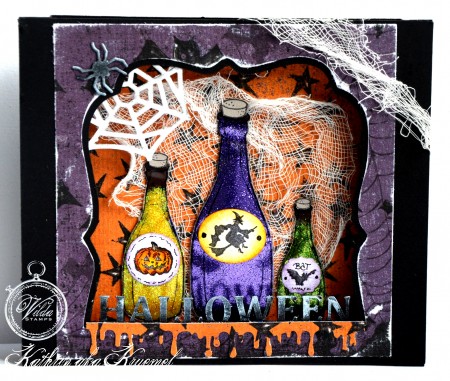 I love stamps that can be used all year long, depending on how you use them. And those Glass Bottles V5 stamps are definately one of those! I used StazOn ink to stamp the bottles on a scrapbooking pocket. Then I "cut them out" with my Fuse Tool that also sealed both layers of foil together. I left a little area open and filled the bottles with glitter in different colors before closing the rest. I stamped the corks again on light brown cardstock and put them on top of the transparency. To not make the designer's paper peak through the unfilled parts of the bottles I stamped them again on dark brown cardstock, cut them out around the stamped lines and placed them behind the glitter filled bottles.
Then I used the pumpkin, the witch and tha bat stamp from the Halloween 2014 V817 kit to create the labels. I added some doodling and ink around the edges.
The card itself is a shadowbox card. I used my cutting maching for the window with the Halloween saying. There is some cheesecloth behind the bottles and I added a spider web to one of the corners of the window which adds to the 3D effect.
This card was a lot of fun to make and I hope I was able to show you a new way to use the great bottles!
See you next month!
Kathrin
This post is posted by Kathrin