Inlägget postat av: Kathrin on September 21, 2015
---
Hello everyone!
It's Kathrin here with my first post of today. I love Halloween. We live in an area in Germany with lots of Americans and so my kids grew up with this holiday. We threw some great parties and of course trick or treat tours were one of their favourites. So, I mad a little Halloween banner for today: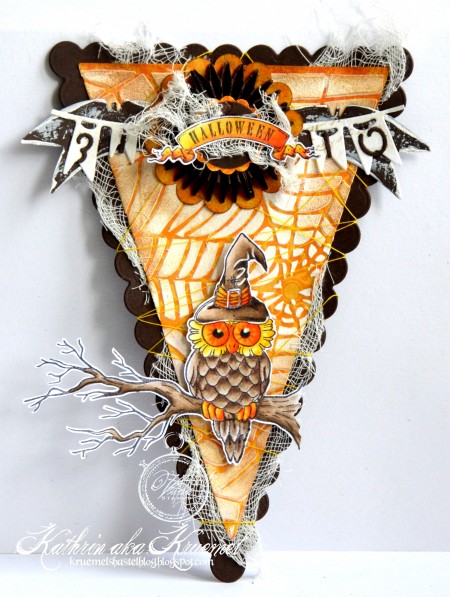 The banner itself is made from a scalloped banner from brown cardstock with an orange banner on top. I used some white structure paste on the orange designer's paper to add a spider web. There is some cheesecloth inbetween those layers and everything was wrapped with orange sewing yarn. I didn't want anything too spooky with this little owl but it definately needed a halloween-ish touch.
Isn't this little owl the cutest?! It comes in the Halloween 2014 V817 stamp set and I mounted it on the branch from the same stamp set. I cut off the stem of the tree. The owl was colored with Copics using mainly browns and orange. I tried to give the eyes a special look… Then owl and branch were cut out close to the stamped lines. That was a bit tricky with the small twigs on the branch but I like how it turned out!
To the top of my banner I added a rosette from dark brown cardstock and then used the Halloween banner stamp – it also comes in the kit – as the centerpiece. I added a banner underneath the rosette that, in the way I glued it down, reminds me of bat wings. Then I also added the date 31.10. with little cut out numbers.
So, are you in a Halloween mood already? If not, I have another Halloween project to share with you so check back again later today!
Kathrin
This post is posted by Kathrin