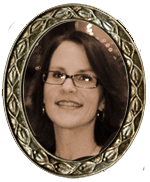 "I am Kathrin, also known as Kruemel, and I live with my husband, my daughters Vjelisa (20), Pia (14) and Natascha (14) and two cats in the South of Germany. I am working part time and spend the rest of the day in my craftroom.
Since I was little I have always loved crafting – my mom only had to give me some papers and scissors and I was happy. I started scrapbooking in 2001, shortly after my twins were born. From there it only took me about 6 months to discover stamping and I have been hooked ever since. You should think there would be a day that you say you have enough stuff but well, I guess this will never happen. Beside my stamps I love papers. I am a bit of a hoarder here, always buying two sheets, one to use and one to admire. LOL
I love to do cards, mostly cute, but am getting more into Mixed Media at the moment, trying to combine my stamps with selfmade backgrounds. I also love to make boxes and little gifts from paper. To color images I mostly use my Copic Markers but also love to dig out my pencils or Disress Inks every now and then.
I am so happy to become a member of this talented team and am looing forward to this adventure!"