Inlägget postat av: Sinikka on October 10, 2014
---
Hej hej, här kommer min andra kreation för idag. även nu har jag använd kartong till basen, gesso och PL kort. Små killar kommer att gilla denna dörrskylt.
Howdy, here is my second project for this month. I used again some piece of a cardboard box for the card and put some gesso on it. And again PL cards as design paper. It became a fun door sign for a boys room.
Farligt att gå i detta pojkrum…ser bara på hålen han skjuter med sin pistol. Jag har fixat ett lasso så att denna dörrskylt kan hängas upp.
Some gun holes…to make it more realistic 🙂 and a lasso so this door sign can be put up at the door.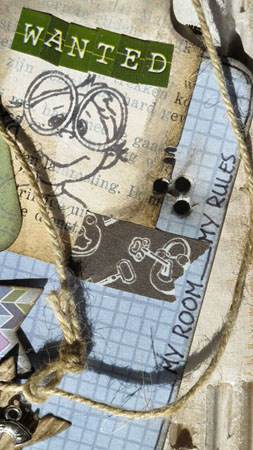 Jag har stämplat på kraft och färglagd med Derwent colorsoft pennor
I stamped the cute image on kraft and colored with Derwent colorsoft pencils
Jag har använd dessa stämplar
I used these stamps
see you next month
Hugs Sinikka
This post is posted by Sinikka