Inlägget postat av: Angela on January 15, 2011
---
Hi everyone I hve had the hardest time trying to load a creation. I hope this works.
Today I have a Valentine Frame that I created for my best friend to put a picture of her and her husband in.
I used some vintage Valentine paper from The Paper Company, a $1`wooden frame, some Modge Podge glue, distressing inks, chipboard love word, acrylic paint, wooden heart, crackle effects glossy accents.
I used a cheap $1 wooden frame from Michaels, painted the edges and covered it with Modge Podge matte glue then adhered the paper rubbed out all the extra glue and smoothed out all the paper and glue. I used a craft knife to cut around the frame and then sanded the edges. After sanding the edges I sponged on some Distressing inks in vintage photo and Tea Stain. Then I coverd the whole thing with Ranger crackle paint in Clear Rock Candy.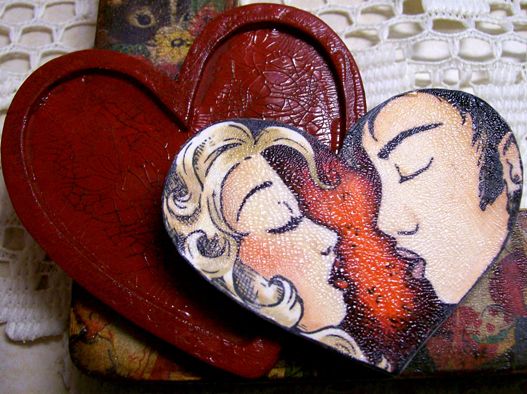 I painted the wooden heart with acrylic paint then covered it in Ranger Crackle Accents.
I used the image V14 from Vilda Stamps, colored it with copics, cut it out and covered it with Ranger clear Crackle paint in Rock Candy.
Well I hope you like my creation and I hope to have more to show you soon.
This post is posted by Angela