Inlägget postat av: Becky on September 10, 2012
---
Hi everyone,
Becky here again, I've got another card to show you today, my kids choose this for me, but I must admit I was going to do this one anyway, this is my idea of relaxation. Music playing, a nice cold glass of pink wine and the bathroom door locked!!!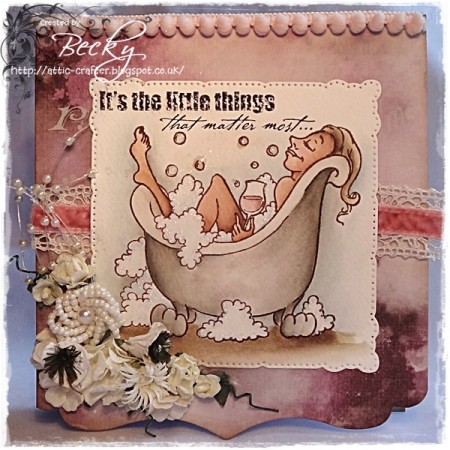 Doesn't this look like bliss?? The Lady In The Bath is V12 and the sentiment is from Ca A5 Theme: English lyrics KIT 4 (V693), I think these two were made for each other, it fits in perfectly.
I've used distress inks to colour the image, and added glamour dust and glossy accents for dimension and texture.
Hope you're all OK, it's my birthday tomorrow so I think I'm going to treat myself to just this tonight 😉
Hugs,
Becky x
This post is posted by Becky