Inlägget postat av: Katja on August 21, 2012
---
I really think is fun to alter. I enjoy to go to fleemarkets and I have buy one really cheap frame.
I have made a mannequin and I have frame it. This is in steampunk style.
Its really fun to work with different mediums and to use gears and other small metallic stuff. I love it.
The frame have paper on it, and I use two different colors of mist. After that I have stamped it with 654 , and the gears 467 , and I also have use the text stamp 472.
For the bakground I have also used stamp 655 and I used stamps from the steampunk kit 695.
I made a passepartout and on I have stamped and embossed gears from the gear kit.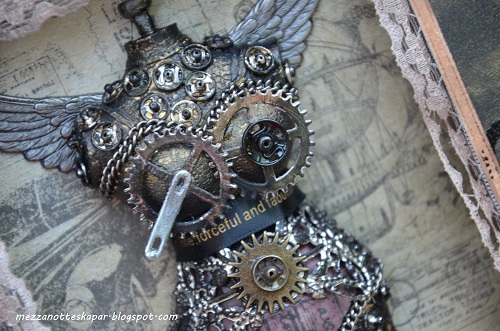 In the upper corner I have used the stamp 651, the key with wings. I have colored  the stamp with distress markers and I have some glossy accents on it.
In the other corner I have used a stamp from the steampunk kit.
Hope you enjoy this. Hugs Katja
This post is posted by Katja