Inlägget postat av: Guest Designer on July 7, 2012
---
Välkommen Christine Schaerfer
Vilken fredag! När jag kollade igenom mina mail upptäckte ett ifrån Vilda Stamps.
Där fick jag frågan om jag vill vara deras gäst DT under juli månad. Min betänketid varade ungefär…2 sekunder. Vore knäpp om jag tackade nej.
Kollade snabbt igenom mina Vilda stämplar och jag bestämde mig för två. En från det Manliga kitet (hemligt kit) och en engelsk text stämpel V 323.
*****
What a Friday! When I check on my e-mails I found one from Vilda Stamps.
It was from Milo and she asked me if I wanted to be theirs guest DT during July.
I thought about it in…2 seconds. Would be mad to say no.
I looked then through my Vilda stamps and decided for these two. A stamp from the "Manliga kitet" (secret kit) and an English text stamp V 323.
Varför jag valde just dessa två stämplar? Det har mycket med min livssituation att göra.
Why these two stamps? It has a lot to do with my life situation.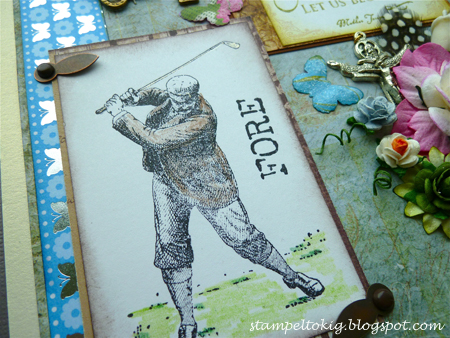 Mannen som svänger sin golfklubba symboliserar för mig som om jag svänger iväg allt gammalt och tråkigt som hänt i mitt liv.
Texten Yesterday is gone…Så sant. Det förgångna är passerat och kommer inte tillbaks.
Tomorrow has not yet come…Visst, morgondagen vet jag ingenting om. Jag är bara nyfiken vart framtiden kommer att ta mig till.
We have only today… japp, idag vill jag leva och stå stadigt på mina ben. Vara tacksam och njuta av varje dag som jag får leva och har roligt med scrapping. Hi, hi.

The man soaring his club symbolized for me as if I used the club to straight away all the bad things that happened to my life.
Yesterday is gone..So true. What happened in the past is gone and will not come back.
Tomorrow has not yet come.. Sure, I don't know what will happen tomorrow and I'm curious what the future will bring me.
We have only today.. japp. Today I will live my life and stand firm on my two feet. I'm grateful and will enjoy everyday that I live and can have fun with scrapping. Hi, hi.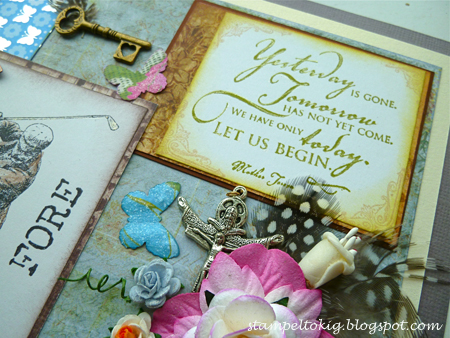 På kortet har jag också använt en nyckel charm- det påminner mig om att nyckeln till ett lyckligt liv är att förlåta och glömma.
Har också använt ett kors charm-för mig är tro viktigt. Utan den skulle jag inte kunna vara den glada person jag är idag.
On my card I have also used a key charm-it reminds me that the key to happiness is to forgive and forget.
Also a cross charm was used – faith is important in my life. Without faith I would not be the person I am today.
Kram/Hugs
Christine




This post is posted by GuestDesigner