Inlägget postat av: Kasia on May 22, 2012
---
I´ve used three different stamps for this tag. V 429 with the cap, V 598 with the text " Because You´ve graduated" and V 18 Flowerswirl.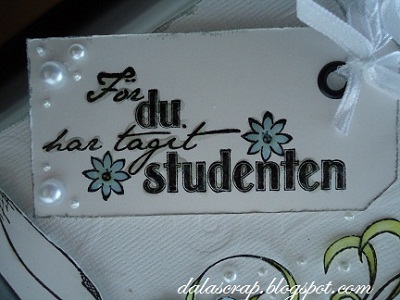 Next time will be my last as a guest designer. It´s soooooo sad…..I hope I will have the oppotunity to come back!
//Kasia aka Dalascrap
PS. Till alla som anser att svensk alkohollagstiftning skall följas till punkt och pricka vill jag bara säga att det är ju tur att flertalet av de som tar studenten fyllt 20 år så det är helt lagligt att ge bort en flarra skumpa på denna viktiga dag! DS.
This post is posted by Kasia