Inlägget postat av: Marina on December 27, 2011
---
Hello,
it's me again with my 3rd and last post for today:
Since I've forgotten some birthdays this year *shame on me*, I had the idea to work a perpetual calendar for birthdays for my friend, so that the same wouldn't eventually happen to her *gg*.


For this I've created a mini-album, for which I've also used design paper from Kaisercraft.
The image, which I coloured with DI's, then cut out and glued with 3D pads, is called Saga (V10).
I have decorated the calendar with a doily lace, roses, punched hinges, letters and butterflies.
To set a few small accents, I have glittered the image and the butterflies with Stickles and distressed the edges of the calendar, the hinges and letters with Walnut Stain.
The calendar is closed with a ribbon.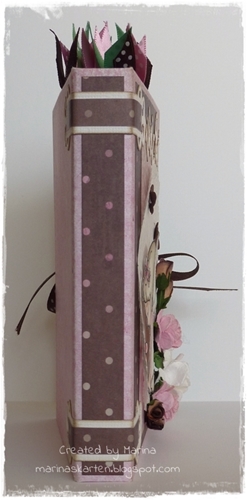 The single pages are worked like a Leporello with pockets, so there the tags with the individual months can be kept.


I have designed each month at the computer, then printed on watercolour paper, cut out, pasted on cardstock and decorated the finished tags with ribbons.

Have a nice day and thank you very much for your visit.
I wish you all a Happy New Year,
hugs,
Marina
This post is posted by Marina