Inlägget postat av: Nancy Nickel on June 20, 2020
---
It's Nancy back to share some projects with you!
For my first project today, I have made a cheerful Thank You card.
Here it is:
The squares stamp makes such a great background!
You can feature anything on the squares but I chose some pretty felt flowers.
I stamped in a bright green, which is a great contrast for the bright pink.
Then I found just the right paper for the background!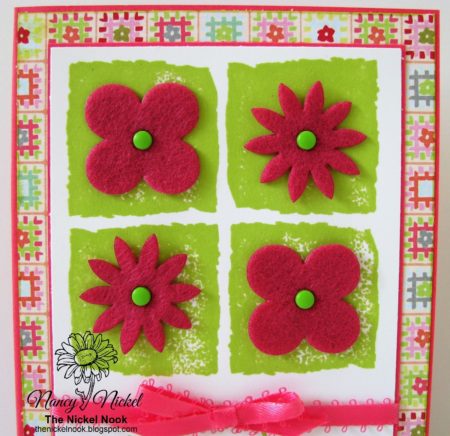 The sentiment was also stamped in the bright green.
Then I just added some pretty pink ribbon and a little bow!
It's such a fun card to put together!

Vilda Stamps Used:
V693 Stamp Set – English Texts 2010.
* * * * *
Thanks so much for taking a look!
I'll be back soon with my second project!
This post is posted by Nancy