Inlägget postat av: Nancy Nickel on April 20, 2020
---
Hello, everyone!
It's Nancy back with you today, to share a fun new Vilda Stamps project!
Today I have a mixed media card: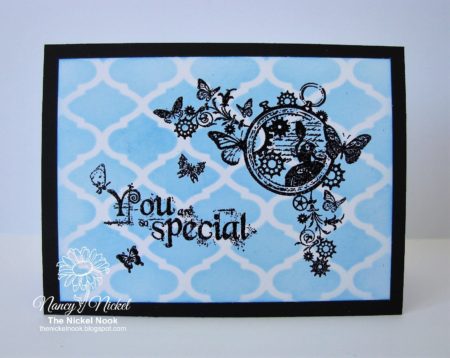 I heat embossed the design on bristol paper,
adding the sentiment, along with several extra butterflies.
The grungy style of the sentiment
works beautifully with the steampunk stamp.
I then stenciled the background design over the entire card front,
using distress ink.
Finally, I trimmed the piece and layered it onto black cardstock
before adding it to the card base.
Here you can see the shiny gloss of the embossing:
Vilda Stamps Used:
V 693 – English Texts 2010
V710 – Butterfly Corner with Extra Buttrflies
* * * * *
Thanks so much for taking a look!
I'll be back soon with my second project!
* * * * *
This post is posted by Nancy