Inlägget postat av: Ilonka on January 4, 2020
---
Hello everyone,
First I like to wish you all a Happy New Year !! With lots of inspiration !!
My name is Ilonka and I live in the Netherlands.
In a small city Hoorn 40 miles above Amsterdam. I started with make cards in 2006.
It is so exciting to work with all of the verry talented DT members of Vilda Stamps.
And this is my first DT card, that I share with you.
I have chosen this stamp V836.  You can find this super cute stamp HERE in the shop ..
I love to work with my Derwent Inktence pencils.
The colours that I used are:
Baked Earth 1800,  Carmine pink 510, Deep Rose 01710,
Felt green 1530, Natural grey 2120, Red oxide 1900, Sun yellow 0200
I hope you come back later this day to see my second card here.
Big hugs Ilonka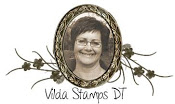 This post is posted by Ilonka