Inlägget postat av: Kai on December 14, 2017
---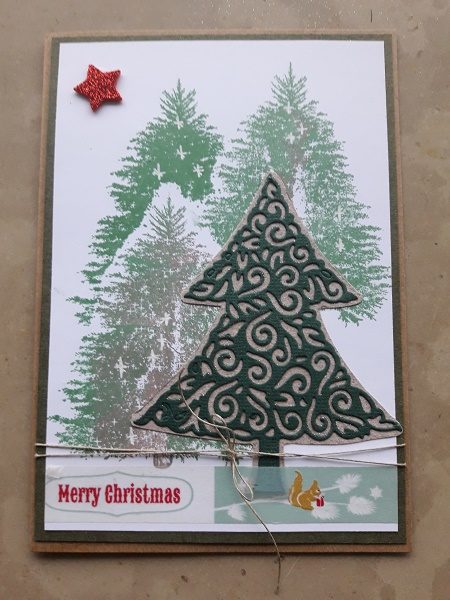 Working method and supplies
Stamp Vilda V718
Memento drops stamp ink 3 colors
Bamboo Leaves, cottage ivy, rich cocoa
Paper tape, string
Punch star
Double card 10.5×14.8 cm.
Top layer dark green 10×14.3 cm
Stamp paper 9.5×13.8 cm.
Paper dark green, sand color, glitter red.
Dies hobby Solution HSDJ015 Christmas tree
2x Masking paper. On which Christmas tree is stamped and cut out.
Glitter spray. Glue spray
Method:
Beink the stamp with 3 colors of ink. Place tree 1 on stamp paper. Stick masking paper on it. Same with tree 2 and 3.
Cut a Christmas tree from green paper. Place the dies on the sand paper. Draw outline with pencil and cut out. Apply glue spray on the back of the green tree. Stick together. Edit front with glitter spray.
Edge of paper tape along the bottom. Tie string. Punch star and assemble card according to example.
To all my Vilda Stamps people:
Merry Christmas and a Happy New 2018
This post is posted by Karin