Inlägget postat av: Kai on November 14, 2017
---
Stars in Repeat
Again a card with my favorite stamp. I'm totally in a mood of votes this year.
For this technique, you need a stamping buddy / tool. Or put a sheet of boxes / boxes of paper into the buddy / misty if there is no flat distribution on the backside
Vilda stamps: V850, V718, V830
Memento ink: Sweet plum, Bamboo Leaves, Teal Zeal, Toffee crunch
Versa Mark clear incl. Embossing powder silver incl. Associated hair dryer
Versafine waterproof black
Sequins, glitters
Masking pad or blank stitch or post-it completely glueed.
Pencil Rubber
Method:
Double card 10 x 15 basis.
Stamp paper, white 13.8 x 9.5 cm, star stamp again and silver embossing powder. Cut them out with a small white border
Stamp 5x star on masking path, cut out.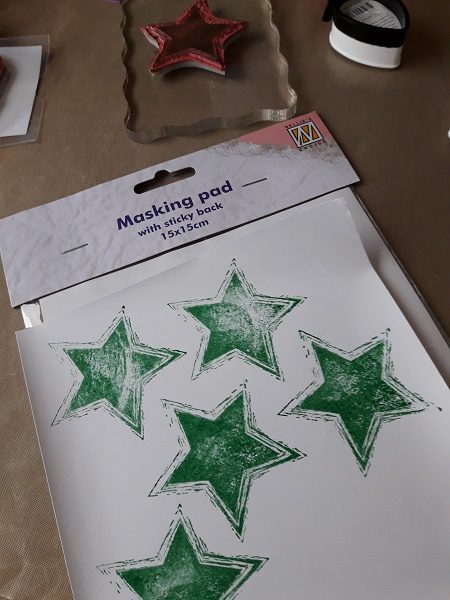 Draw a line of the center of the card. Put small pencil line. Place the stamp in the middle. Let it sit and move the card 2 cm up and down. Each time you put your mask star on top of the stamped print. Continue until your card is full. Make the stamp clean after each color.
Give the base card around an edge with the same silver as the middle star. Paste the stamped card. Text at the bottom. Stack the star in 3 D. Decorate with sequins of your choice.
The attached card is stamp V718 tree. Also goes the same way. But I had a mistake with text stamping. A thick black border around. But resolved to pull the black line.
The best works are thick full stamps. Have fun making this christmas card
This post is posted by Karin