Inlägget postat av: Kathrin on November 21, 2017
---
Hello everyone!
Have you finished all your christmas cards yet? I am far from that right now – and so I made a christmas card to share with you today.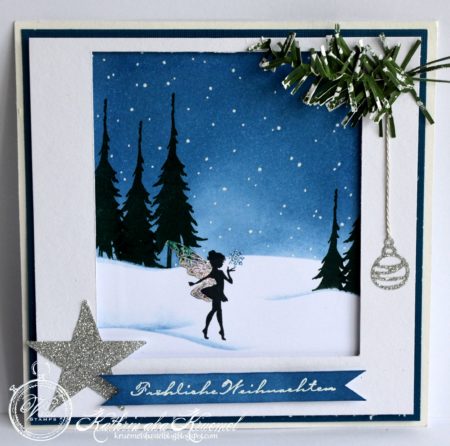 Since I send christmas cards to friends all over the world and some have a long way to go I had planned to make a more CAS card without any decorations that could get squished on the way. Well, that plan didn't turn out for this card… 😉
The white frame on top of the card is added with dimensional tape. I just liked that better with the scene having so much white as well.
The saying is from the German Christmas Lyrics stamp set. Since I didn't have much room – in height – for a saying I only stamped the saying and didn't use the frame and the trees. Then I've cut it out in a banner shape, glued it onto the frame using dimensional tape and added a star cut from silver glitter cardstock underneath the banner.
This is the decoration I felt like the card needed – and that destroyed my plan of making a CAS card. This pine branch is made from a strip of green cardstock that I've cut slits into and then twisted it to create the 3D branch. I covered it with white structure paste for snow and let an ornament hang down from it, The ornament was cut from silver glitter cardstock again and I added a matching string.
And this is the scene I created for my card.
I hand cut a sheet of copy paper into a wavy shape to use as a stencil and then used blue Distress Ink to create the sky and the snowy hills.
The trees are made using the stamp from the Fantasy 3 stamp set and dark green ink. I used my stencil again to cover the bottom parts of my card while stamping the trees. That made me able to only stamp the upper part of the tree and giving them different heights.
The cute fairy is from the Fantasy 1 stamp set. I've replaced the stars she is originally holding with a small snowflake. The wings were re-drawn with a white gelly marker and then I've covered them with Stickles. The glue reacted with the green ink and stained the white. But I think it only adds to the transparent look I wanted for the wings. But that made me try adding structure paste to the green ink on some paper scraps – and the paste got stained as well. So I decided to not add snow to the trees – because no one likes green snow!
The stars on the sky were made with a white gelly marker again – and strangely the blue didn't stain the white.
Hope you like my dreamy christmas card!
Have a happy day, Kathrin
This post is posted by Kathrin