Inlägget postat av: Kathrin on October 21, 2017
---
Hello again everyone!
Thanks for stopping by (again) today to have a look at my creations.
My first card this morning was a Halloween Card – and so is this second one. This holiday is just too much fun craftwise to not make anything for it. This time I used the "Witch on Pumpkin" stamp: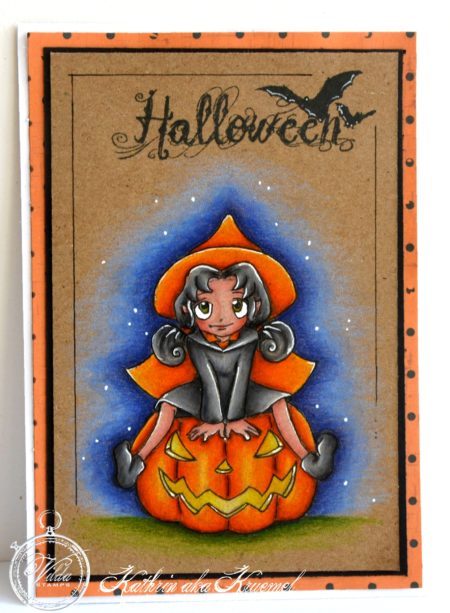 The card itself is pretty simple since I wanted the image to be the focus. So I used a white card base, added a layer of orange and black designer's paper and some black cardstock on top of that. The next layer is cut from craft cardstock, where I also did my coloring on.
On the top of this layer I'd stamp the Halloween Text stamp. I love how the bats go with the image. I just used black ink to stamp the saying and added a few highlights to the bats with a white gelly marker.
And this is the image. It was my first try with Polychromos on craft cardstock – and my first try with Polychromos at all. To be honest – I didn't expect the coloring to take that long! But I wanted the image to be bright and happy. So I've added a few layers of color, blending them together to not have any sharp edges. I definately need some more practice with the hair here!
In the end I added the blue background and used a white gelly marker again to add a few dots that were meant to be little stars shining in the distance.
Hope you liked my cards – I am wishing all of you a happy time!
Hugs, Kathrin
This post is posted by Kathrin