Inlägget postat av: Kai on August 14, 2017
---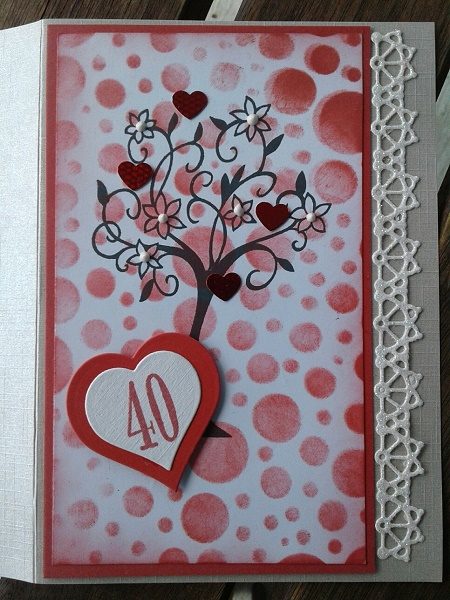 Hi Everyone,
Everyone sometimes needs a jubilee card. I made this for a 40 year marriage of friends. It's a Robins wedding. Therefore, the main color is red.
Necessities:
Base card silver metallic
Strip white: glitter paper, strip red metallic
Red 8.5 x 14.3 cm.
Red dotted: 13.8 x 8 cm. Homemade, white stamp paper, see for further explanation below.
Red heart, white heart. Stamp number 40, or at your own discretion.
Stamp Vilda V16 tree
Stamp ink. Waterproof Black, Red and Versa Magic: Red Magic
Punch little mini heart
Products Nellie Snellen: dies: SDL041, glitter paper white, MFD060 heart 2 x 1 white and 1 slightly larger red.
Stencil NMMS 001, dots
Ink applicator
3 D pearl paint
Method:
-Bake background buns of paper by rubbing with ink applicator over the stencil with Versa Magic red with rotary motion.
-Place tree with waterproof black ink. Paste here and there a punched mini heart.
Cut 2 different sizes of heart. On the white part a year of choice.
Mat everything on the basic card. Place the jubilee heart slightly higher with foam. Give white dots with 3 D pearl paint as flower heart.
This post is posted by Karin