Inlägget postat av: Kai on May 14, 2017
---
The temperatures outside are good, so time to get the BBQ out.

Requirements and procedures:
Basecard  13×13 cm green, paper white and green
Nellie Snellen Mixed Media NMMS004 Stencil Background Swirl Memento Bamboo Leaves Green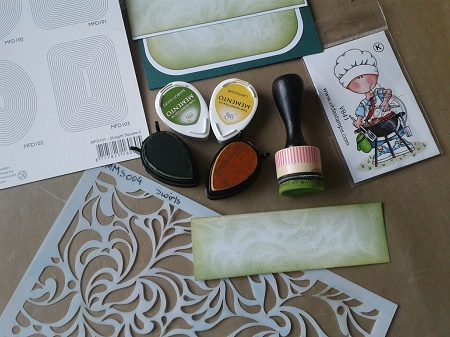 Edged with swirl and white cut with Nellie Snellen dies MFD101
Striped white 13 x 4.5 cm, swirl edged 13 x 4 cm 2 pieces
Stamps V841 and V395 with water-resistant ink and coloring of your choice.
Stamp prints in Circles cut with MFD055 and in green with MFD 085
Everything is inking round  with Memento Cantaloupe and Memento Bamboo Leaves with round ink applicator. This way the background color returns everywhere.
Water drops with 3 D glossy around the fish.

Punch little heart and butterflies.
Paste everything on the card with double sided adhesive tape, glue and circle with the BBQ master in 3 D. Decorate with sticky beads according to example.
This post is posted by Karin