Inlägget postat av: Kathrin on April 21, 2017
---
Hello everyone!
For my second card here today I went a bit out of my comfort zone, meaning I did it in a way I usually don't do. But those cute new fairies just screamed for it: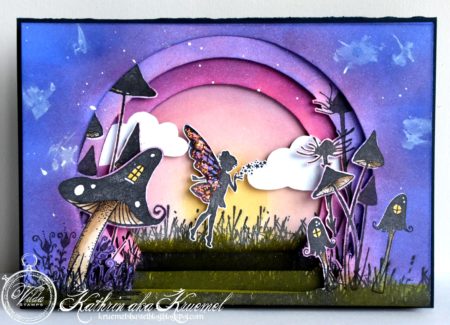 I made tunnel card, using a lot stamps from the new stamp sets Fantasy 1 V856 and Fantasy 2 V857 and also the smaller grass from the Grass Kit V436.
The card is made from 4 layers, having a cut out that gets smaller on every layer. Before I did the cut outs I've drawn the circle on my cardstock, then stamped the different elements on it and cutting the circles out, of course not cutting off the stamped images.
Then I did the background using different colors of Distress Ink – and messing it all up in the end with the white on the outer layer. I wanted to add some white speckles but somehow my paint didn't agree with me and I ended up with some thick splotches. And whipping the paint off only made it worse. But the card was too much work too put it in the trash and so I just say that's how I planned it to be. 😉
Then I've put everything together using 3D tape between the different layers. The fairy is added with 3D tape as well – and of course she needed some glitter on her wings!
And here you get a better look at how the card is assembled. In the end all I did was putting my scene on a dark blue card base.
I hope all of you have a magical day!
Hugs, Kathrin
This post is posted by Kathrin