Inlägget postat av: Kathrin on March 21, 2017
---
Hello everyone!
It won't be long anymore and then Easter will be here. I don't send out easter cards but I love to make them. They remind me of spring and warmer weather after a long and cold winter – not to mention that those bunnies and chickens are so cute. How could you resist? And so I made an easter card for my first post today, and I have to say it's a little unusual for me and what my other cards look like: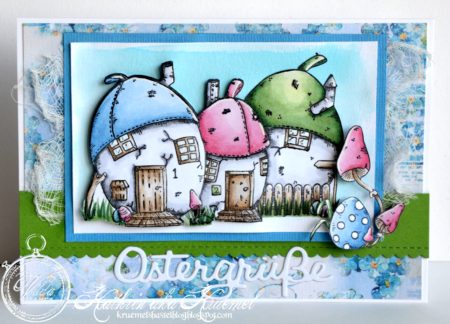 I wanted to use those egg houses from the Easter Kit V736 so badly. But they had to be colorful. That means – at least for me – the rest of the card had be kept more simple because a lot of layers and many colors don't go together well for me. So I used a designer's paper in the background, added a green scalloped strip across the card and a white die cut saying meaning "easter greetings".
The houses have been stamped and colored in with Copics. I stamped the image 3 times, coloring only one house each time and then cutting them out, starting with 3, then two and then one house to be able to put them together using 3D tape. Then I also stamped the cute easter egg with the mushrooms and added this as a 4th layer.
I glued the houses on a piece of watercolor paper that I added a light blue color onto first.
Here you can see how I mounted the houses on top of each other. To not make the white paper I stamped on be seen underneath the houses on top I used a middle grey marker and colored the hidden houses with it.
Hope to see you all back again later today for another easter themed inspiration.
Hugs, Kathrin
This post is posted by Kathrin