Inlägget postat av: Kathrin on August 21, 2016
---
Hello everyone!
I guess we all know those days, when all we want to do is close a door behind us and take some me-time. So I went ahead and made a gift to give away some items that can make such a me-time even nicer:
And what would fit better on such a gift bag than the Lady in Bathtub? She really seems to relax – covered in bubbles and with a glass of whine in her hand.
I took over the color of the red wine for my designer's paper and also added some in the color of the bubbles. This bag is quite large – as you might have been able to tell from the space around the image – so it seems kind of empty allthough there is quite some decoration around it. But I didn't want to go overboard and decided I was happy with the result.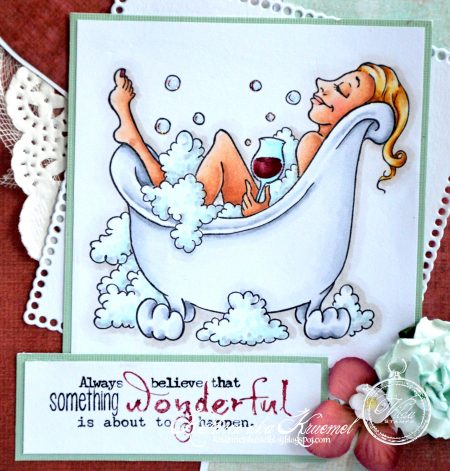 The image is colored with Copics and I added some Stickles to the bubbles flying around.
The saying is from the English Texts Set and I thought it would go great with the gift. Imagine you are totally stressed out and then you get that gift. It really has to cheer you up immediately.
I kept the inside even more simple – just added a little border, ribbon and heart to the inner box and of course filled it with a bubble bath, a face mask (with diamonds!) and some champagne…
So, see you all later again!
Hugs, Kathrin
This post is posted by Kathrin