Inlägget postat av: Kai on June 14, 2016
---
Find as many matching colors together for this project.
Paper Bloc: Crafter's companion: Love and Romance
– 1x cardstock 8x 20.5 cm base color =
– 4x design paper 7.5x 7.5 cm and 1 cm = 7.5 of 4x cover
– Design paper strips in 3: 18 14x / 14x 17 / 14x 16 cm = tea envelopes
– Stamp (not too big) V 697 teapot, colorize your choice.
– 2x ribbon of 15 cm long,
– Cirkel punch,  Flower, Leaves punch Nellie Snellen: FLP002 / 003/034/004, circle Dies Nellie Snellen: MFD055 – ruler, double-sided tape / tape and glue
– Scor-pal or bone folder / embossing pen to shiver
– Required materials to decorate.
6 tea in teabags
Method:
Score the cardstock strip lengthwise on the left and the right at 8 cm.
Score the thin strips of paper on the short side at 6,5 and 13 cm so that there is a sticky strip of 1 cm.
Score the strips then on the long side on the left and right 7.5 cm.
Stick them now all three with a little glue and double-sided tape shut.
Pons an opening on both sides of the strips with circle punch, so that the tea bag can be easily caught.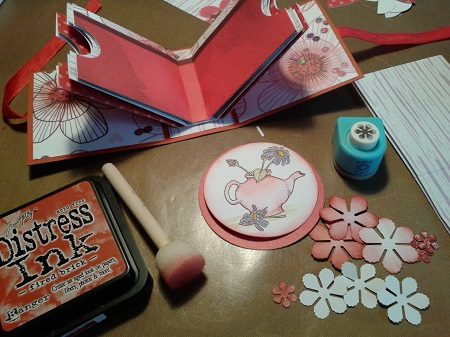 Would you have also decorated the inside of the book, do so now.
Glue the ribbons on the cover of the book on 1.5 to 2 cm from the edge tightly.
Now it can also design paper pasted on it.
Now paste down the bags together.
Thereafter, the cover of the book
Decorate the front of your choice.
Have fun making but rather in giving this tea book.
This post is posted by Karin