Inlägget postat av: Kathrin on June 21, 2016
---
Hello stampers!
It's Kathrin here with my first of two cards today. I was going through all those georgeous Vilda stamps I have and came across those High Training Shoes V673, remembering that I really wanted to colors those in using the no-lines technique. So this is how they turned out:
The shoes are colored using Copics and I used a very fine liner to add some details on the laces.
While going through my stamps I also saw the "Don't Walk in front of me" poem V454 and I thought this would be great to combine with the shoes. And with those diamond shaped stars around the text I thought I had the perfect star border die in my stash. Love, when things come together like this.
Here's a close-up of the stamps on my card: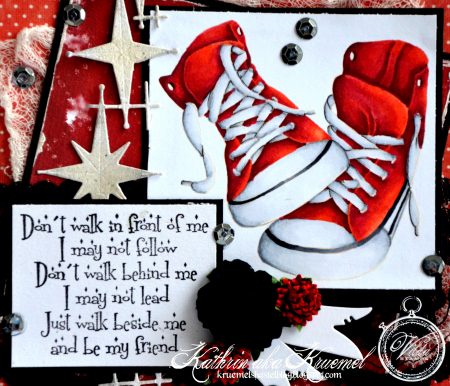 I added a few silver sparkling sequins to my card and also some black lace, flowers and two banners, that I stuck under the flowers.
Hope to see you all again later!
Hugs, Kathrin
This post is posted by Kathrin