Inlägget postat av: Kathrin on April 21, 2016
---
Hello again everybody!
As promised earlier here I am back with another project. This time I made a little card that has a bag enclosed so it's both a giftbag and a card at once. I love to make those gifts and you can always bring the design and the content together. So, that's what I made:
I used one of the cute Sleepyheads V837 on my card. To create the scene I used a designer's paper with clouds in the background, and sat big moon behind the image. A little cloud and star make that a sky scene at night.
The saying I used comes with those two Sleepyheads images in one set.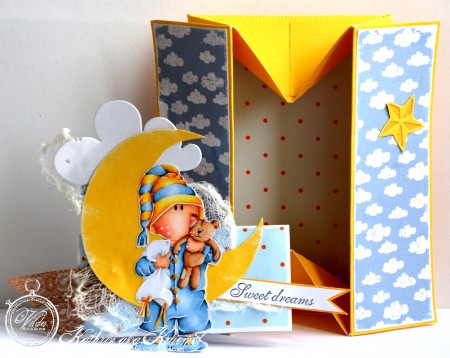 And this is what the card looks open. It's like a box that folds flat when the card is closed. I will fill it with a little book to be read before bedtime and maybe some chocolat.
I used some dotted designer's paper on the inside that I also used on the banderole that holds the card closed.
Have a happy day everyone!
Hugs, Kathrin
This post is posted by Kathrin