Inlägget postat av: Dunja on March 26, 2016
---
Hello everyone, it's me (Dunja) today, and wish
you a nice Easter Sunday and hope you'll enjoy
the time with your loved ones?
For today's Easter celebrations I show you a
gift bag, it offers space for some Easter sweets.
The cute image is by Vildastamps V736 and you'll
find this motive and some more very cute designs
on a stamp plate. Again i colored it with my
Distress Ink's – Refills and markers -.
The paper are from Maja Design. On the front I have
put some paper doilies, flowers and cut outs.
So everything looks a bit shabby, I brushed nearly
everything with gesso. The corrugated board is from a
wine board and is fine, because it is beautiful rough.
I prettied up the backside. A sheet design paper,
a doily and the cute chick in an egg cup, which is
likewise available on this stamp plate Vildastamps V736.
I have attached a little envelope from kraftpaper
with personalized greetings with a small wooden clip on the bag.
Thanks for stopping by 🙂
Hugs
Material | Supplies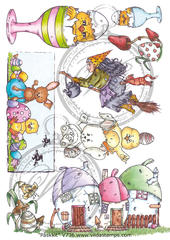 This post is posted by Dunja