Inlägget postat av: Kathrin on January 21, 2016
---
Hello everyone!
Welcome back again. It's still Kathrin, sharing my second piece of art today.
Christmas has passed and it was time to put away all those beautiful christmas stamps – I did that with a heavy heart. But then I thought about which holidays will be here next. It still felt too early for Easter so I thought of Valentine's day. We don't celebrate it here that big, but I like to give away a little something to show that I care about special people in my life. So, I came up with this lollipop flower: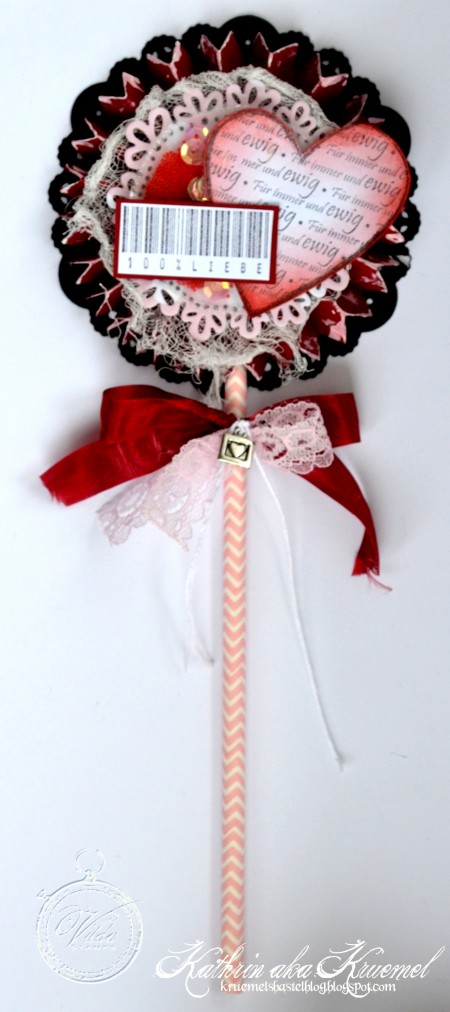 The lollipop flower is a rosette based "flower" that gets glued to a paper straw. I think they look cute in flower bouquets or pots or even put on a nicely wrapped box of chocolats.
For my lollipop flower I used red, pink, white and black. There are still people saying pink and red don't go together but I love this combination! I put a black doily underneath the red paper rosette and then put another doily from pink designer's paper and some cheesecloth on top of that. Then I added a little shaker part – a round cut out pocket that is filled with pink sequins and some tiny red pearls.  You don't see much of that but I like that there is something moving… For the main decoration I used the stampset German Lyrics V739. Both, the heart saying "always and forever" and the barcode stamp saying 100% love come in this set. I used red Distress Ink to color in the heart a bit. The barcode stamp was matted with red cardstock.
To the paper straw I attached a red bow, some pink lace and a little heart charm.
Thank you for stopping by today. I'm wishing all of you a happy time!
Hugs, Kathrin
This post is posted by Kathrin