Inlägget postat av: Marie on December 27, 2015
---
Här kommer en altered burk med ett vinter tema, vintern vara längre än julen…  till godis eller ljuslykta (locket av).
Craft too die, Glitternagellack, YoDo snow, Gesso, Mod Podge, vitt och grönt silkespapper, green pen och limstavar.
Here is a altered jar with a winter theme, the winter si longer than Christmas … for candy or light lamp (lid off).
Craft too die, Glitter Nail Polish, Yodo snow, Gesso, Mod Podge, white and green tissue paper, green pen and glue sticks.
……from this
…to this
Frihand skulpterad snöflinga  med limpistol med Gesso på målad, kanten på locket har fått en ruffig kant med modelingpaste.
Freehand sculptured snowflake  with hotglue gun with gesso painted over, the edge of the lid has I given a shabby edge with modeling paste, like snow drifts.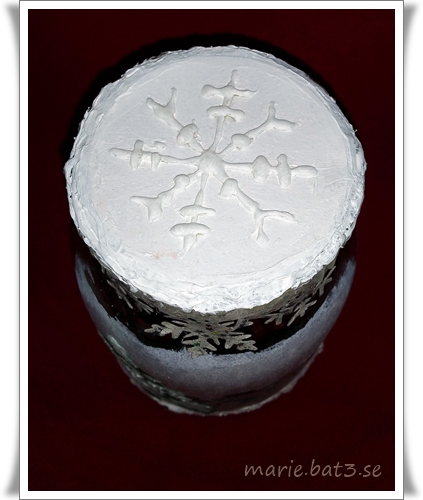 Istapparna är smält lim. / Icicles are melted glue.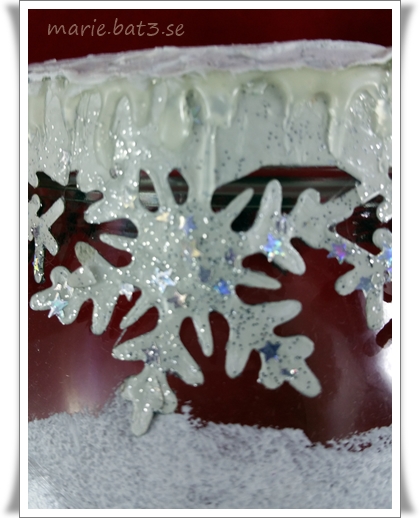 All snö har jag skapat med Moddelingpaste + YoDo Snow…
All the snow, I have created with Modding Modeling Paste + Yodo Snow …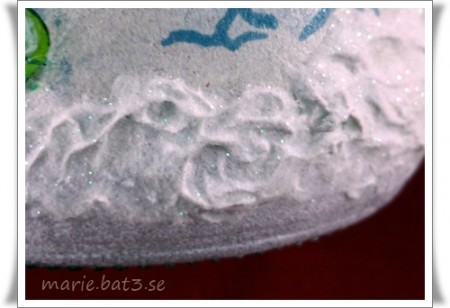 This post is posted by Marie