Inlägget postat av: Kai on September 14, 2015
---

Needed:
Cardstock red: 10.5 x 28.4 cm, shivering from the left at 13 cm. Is the fold line. Strip 10x 15cm. White: 10 x 12.5cm, Circle punches around: 3.8 cm.
Printed paper in shades of green: 11.5 x 9cm, 6×11.5c cm. m, 3×10.
Nellie Snellen angels: shape dies: SD 073, SD074
Nellie Snellen wrappig Who: Heart WPD 001
Nellie Snellen Multi Frame border: MFD 028
Pons circle diameter: 3.8 cm, heart.
Vilda stamp text: V 804
Distress ink: green, distress tool, Archival black
Gold thread, 2 x red bead, red / white wire, glitter stones, brad red, sequin star
Glitter Stift; wink or stella
Glue and 3 D foam
Method;
All bearings and loose beinken with greenery. Make clusters temple with different lyrics and stamp on the cherubs and circle.
Before gluing the brad. Then, all the pieces to be glued together.
Along the edge of the angels with a fine liner green dashed line with glitter and a wink or stella. Around the neckline several times with gold wire wrap bead strung it. Adhesive foam.
Cut, fold and glue the heart. Secure with bow tie and top front center of a punched out printed Christmas paper. In the heart adjusts the circle with appropriate text and sequin heart.
On card behind the strip 3 x 10cm stick. Decorate with glitter.
Cut out white labeled text christmas and cut in arrow shape. Slice on top heart bag.
Have fun making this card.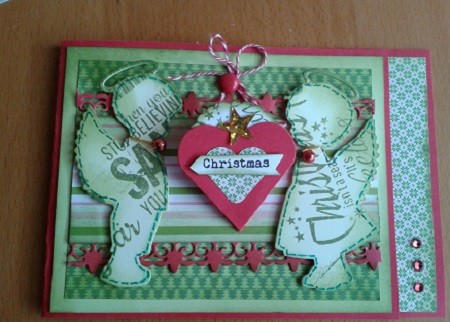 This post is posted by Karin