Inlägget postat av: Stephi on May 18, 2011
---
Hej på er,
jag har använt den så fina älvan, V50 samt text från det hemliga kitet.
Jag har mistat den blåa bakgrunden och rivit kanterna. Jag tog ett par gamla jeans och klippte ut i samma form som de övriga pappersbitarna.
Bak på byxorna fanns några knappar som jag tog som bord längst ner.
Blommorna är prima och egengjorda retro blommor som är mistade i olika blå nyanser. Självklart skulle älvan ha en jeans klänning, allt för att matcha 🙂
Hon är färglagd med copics.
I have used the cute elf, V5o and the text is from the secret kit,  " Wish you a good day full of sunshine and laught"
I used glimmermist on the blue background, I took a nice peace from an old pair of jeans and cut it like the other papers.
I also used the jeans on the bord. The flowers are Prima and retro flowers made my myself, misting them to get a nice colour.
The elf is wearing a jeansdress, using copics to paint her.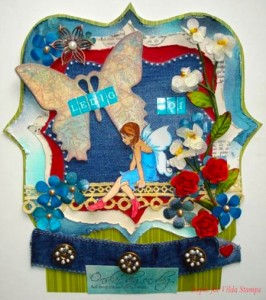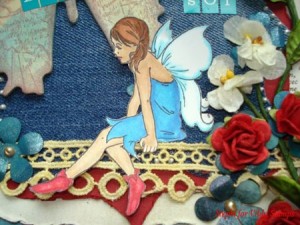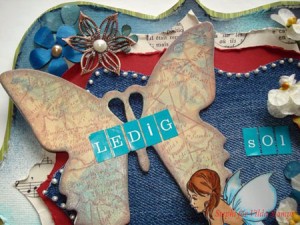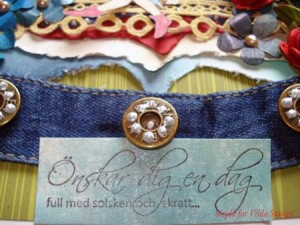 Thanks for looking,
Stephi
This post is posted by Stephi