Inlägget postat av: Stephi on June 28, 2011
---
Hej på er,
I dag visar jag ett kort som är till en toppen vän!
Jag har använt stämplar V653, V418, V482, V436 samt V28.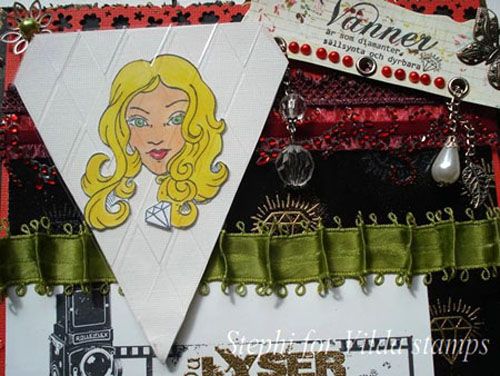 Jag gjorde en diamant med en embossing folder, gjorde en
likadan i overhead för att få blänk på diamanten.
Tjejen är färglagd med copics.
Texten "du lyser upp min tillvaro" maskades in på negativet.
Diamanter embossades på det blanka svarta pappret i guld och
cristal. En vacker prima bord samt lite Tim H bling fick pryda kortet.
Today Im showing a card to a very nice friend.
I used a diamond embossing folder to get a perfect diamond,
took overhead on it to get it shining.
I masked the text on the photostripe, you make my life shining.
The other text in the corner is friends are like diamonds, special
and important.
I embossed diamonds in gold and crystal all over the black paper. 
I used a beatiful prima bord and Tim H bling to shine it up.
Thanks for looking,
Stephi
This post is posted by Stephi