Inlägget postat av: Kai on May 14, 2015
---
Happy Girl
Stamps used:
V331, Lillan front and back
V724, Straight letters and numbers
Punch girl in front and alphabet print, cut loose.
Square white card folded.
Stamping on the right girl figure with indelible ink Archival. Colorize with aqua markers.
Make template thin white paper by cutting a circular hole dies.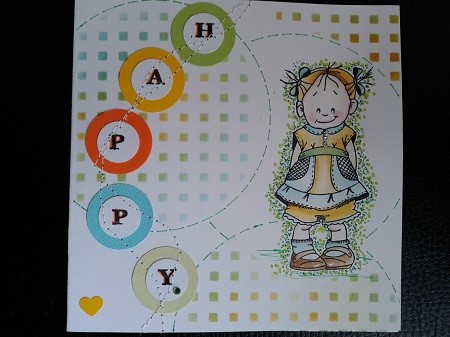 Place the opening and this put a plastic template with expressed squares.
Color Apply with distress ink and distress tool. Highlight the circles with a fine liner by the exterior of the circle Dies to be used as a ruler.
2 different sizes punches and dies circles punching 5 x small white, 5 x slightly larger in color.
Stamp the letters HAPPY apart on a circle.
Stick to white colored and put temporarily with removable adhesive.
Under sewing machine put in a black top and bobbin thread white yarn. Now fix the sewing circles with random zig zag line.
Map decorate with glitter. See example.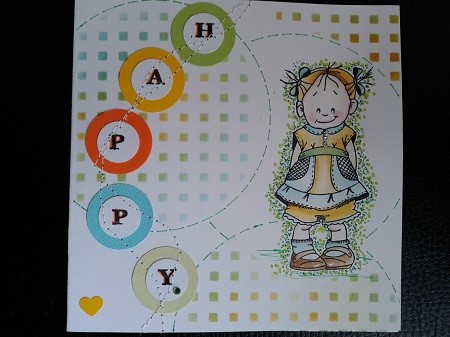 The inside of the card and the envelope flap of the plastic mold again squares colored with the same color distress. So everything is a beautiful whole.
This card is of course excellent for communion. Make it in several colors. Good luck!
This post is posted by Karin