Inlägget postat av: Guest Designer on April 6, 2011
---
Vi hälsar april månads gästdesigner, Linda Brun, välkommen!

Jeg har brukt disse stemplene
V549 , V172, V397, V274

Jeg har laget en bok som jeg skal bruke til å skrive julegave lister.
Da vet jeg hva jeg ga i fjor og kan planlegge i god tid hva jeg skal gi i år.
Til permene har jeg brukt tykk kartong fra emballasje som jeg har farget
med Distress Ink og dekket med reste papir fra Gp45 og MyMindsEye.
Inmaten er sider fra en gammel skrivebok.
Treet er stemplet med Archival Ink – Olive, Rompluva og stein er stemplet
med Memento og fargelagt med Promakers. Rompluva har jeg stemplet opp
to ganger, klippet ut stumpen og fargelagt og brukt embossingtool på slik
at den ble rund. Jeg har hatt på Glossy accent for å fremheve den enda mer.
God Jul er stemplet med Staz-On.
Jeg har pyntet med bling og Stickles-vintage photo, pakkene er klippet ut av
papir og tegnet på med tusj. Jeg har satt sammen boken med 3 ringer og har
pyntet med forskjellige pyntebånd.
Jeg har også festet et bånd slik at jeg kan henge den opp om jeg ønsker det.
I've used these stamps
V549 , V172, V397, V274

I've made a book for my x-mas present list. I like to keep a record of
what I give and plan ahead on what I'm giving away this year.
For the cover I've used cardboard from recycled packaging, I've colored
the edges with distress ink and covered the page with scrap paper from
GP45 and MyMindsEye. The pages inside the book is from an old notebook.
The tree I've stamped with Archival Ink-Olive, Rompluva and the stone is
stamped with Memento and colored with Promakers. Rompluva is stamped
twice and I cut out part of the body and used an embossing tool attached
it to the body and put on some Glossy accent. The The God Jul stamp is
stamped with Staz-on.
I've decorated the book with bling and stickles vintage photo, the presents
is just paper I've cut out and draw on it.I've put the book together with
three metal rings, decorated with some braiding. I've also added some ribbon
so I can hang it on the wall.
Thank you for looking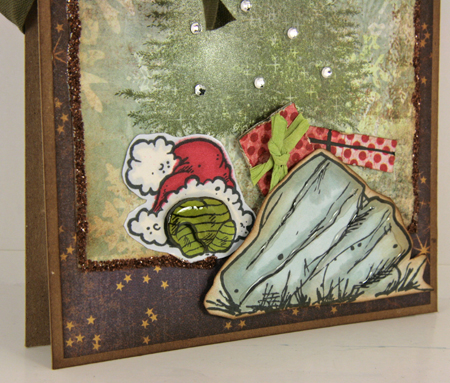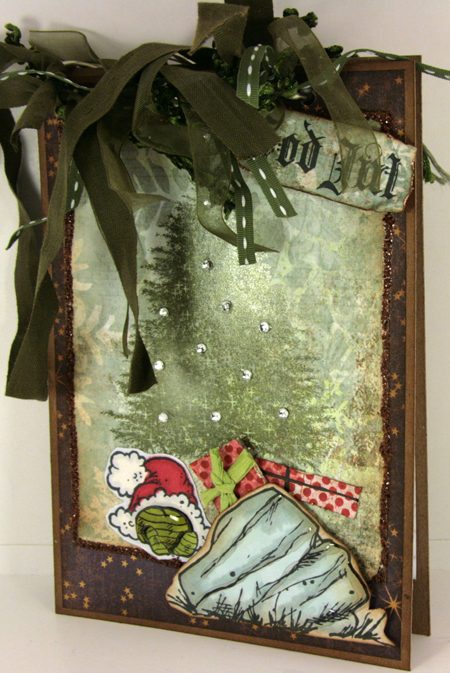 This post is posted by GuestDesigner