Inlägget postat av: Anita on December 31, 2014
---
På årets sista dag vill jag bjuda på ett kort, ett ljus och en tvål!
Dessa alster är tänkta som gåva till någon som behöver lite njutning!
Det kommer att bli MÅNGA bilder och ett långt inlägg, så häng med nu…..
Alla papper är från Maja Designs serie "ska vi ta en Fika?"
På ljuset är "Dam i badkar" V12 och textstämpeln " Carpe Diem" V587 stämplat.
Såå lätt att göra!
Du stämplar ditt motiv på en servett, tar bort så att du har ett lager papper kvar. Klipp ut motivet. Behöver ej vara så exakt för papperet kommer inte att synas sen. Så tar du en bit bakplåtspapper över för att hålla fast motivet.
Värm sedan med embossing pistolen en kort stund och motivet smälter in i ljuset. Det går väldigt fort.
Dekorera.
Här är kortet oöppnat ihopknutet med ett band.
Det är meningen att mottagaren av kortet ska få möjlighet till egentid ; därav den fina klockan "Fickuv" V46 och eftersom en CD finns i kortet så fick den läckra "vevgrammofonen" V8 vara med här.
Även texten "Istället för en blomma" V470.
Motiven är målade med Distress Inks.
Det lila papperet är utstansat med en Martha Stewart kantstans.
Här är bandet öppnat och framsidan nerfälld.
Nu passar det med texten Carpe Diem
på ett hjärta och så öppnar vi nästa rosett!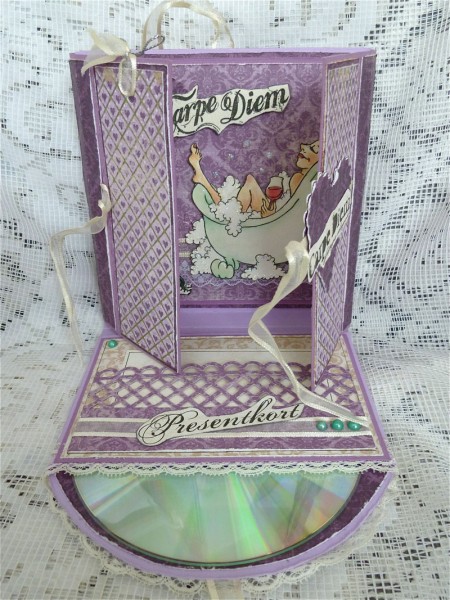 Då öppnas kortet ytterligare!
Nu är hela kortet öppnat.
I kortet finns plats för ett presentkort eller pengar,
kanske till en SPA upplevelse.
En CD skiva med härlig musik att njuta av och ett bokmärke att lägga i den nya boken fick också plats.
Närbild på fickan för presentkortet och en ficka för en CD.
Texten hittar du här "Presentkort" V569.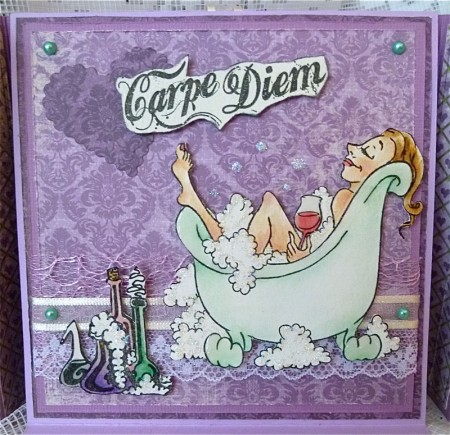 Denna underbara stämpel "Dam i badkar" V12 och texten "Carpe Diem" V587 som betyder "Fånga dagen" visar vad hela presenten går ut på!
"Passa på och njut en smula, för det är din dag idag!"
Flaskorna är från kitet "Trollkarl med drycker och fjäderpenna" V814.
Motiven är målade med Distress Inks.
På badkaret, glaset och flaskorna är det glace och på bubblorna är det Star Dust stickles.
Det går även att fälla upp framsidan och låta kortet stå på detta viset om man vill!
Baksidan av kortet.
Här är då bokmärket med den passande texten
" Books and friends should be few and well chosen" V493.
Denna texten finns också på svenska; "Böcker och vänner…" V492.
En liten "Bokråtta" V808 fick också plats.
Genom att stämpla av lite färg på ett annat papper först,
så blir motivets konturer ljusare.
Genom att göra en perforering där bokmärket sitter fast i kortet
så kan man lätt riva av den.
På andra sidan står "Betjänten" V82 redo för att passa upp på jubilaren!
Jag har medvetet låtit både honom och "Bokråttan" V808 vara omålad för att inte ta fokuset från huvudkortet "Carpe Diem" V587.
Det var allt jag ville visa idag!! 🙂
Önskar er alla
ett GOTT NYTT ÅR!!
This post is posted by Anita