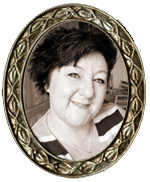 I´m 42. Since june 2008 I´m mother of a son called Lennart. I´m not married.
We live in Tönisvorst, that is near Düsseldorf.
From 1989 to 2008 I worked at Deutsche Post Ag, after that I became mother and now I don´t work because I´m incapacitated for work – I am in the early retirement.
My hobbies are my son, stamping, making cards and the music of Die Ärzte.
I began stampin around 4 years ago, first I created only vintage cards and I still love that. And today I create all styles I can find.
I don´t like Magnolia Tilda and Hänglars – I don´t like it when figures don´t have a mouth.
The most of my Creations are cards.