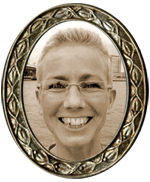 Hi i am Lean de Ruiter scrapbooking for 5 years know. I am living with Ron and my doggy Misty and my cat Isja in the south of the Netherlands. I love to scrapbook mini albums and lay-outs some times i made a card or alter some boxes or others stuff. Love to work with fabrics,cardboard, lace, paint and inkt.
Dutch saying… lekker kliederen… love messy stuff.
Have lots of srapfun every one byebye, Lean.